Walking in Georgia's Caucasus Mountains: Kazbegi & Tusheti
07 Jul
-
19 Jul 2024
|
13 days
A land steeped in myths and legends and extraordinary natural beauty, Georgia offers the perfect backdrop to this walking adventure in the Greater Caucasus mountains.
Beginning in its capital, Tbilisi, we head out along the epic Georgian Military Highway to Kazbegi National Park and the slopes of Mount Chaukhebi, where we will hike amongst the breathtaking Greater Caucasus landscapes. From here we travel via the country's famed wine region to the majestic beauty of Tusheti National Park, Georgia's true hidden gem. The area is now recognised as a protected landscape and is managed by the Tushetian people. Our local hosts will help give us a unique insight into life in this more remote area, and how our journey helps support the preservation of traditional customs and skills.
On this tour we will venture across a landscape of sublime beauty, crossing a countryside liberally bedecked with traditional villages and historic old towns, all set against the magnificent backdrop of the towering and mysterious Greater Caucasus Mountains.
DAY 1: Tour starts in Tbilisi
Rooms will be available in Tbilisi from this afternoon. Those arriving on the group flights will arrive in the early hours of tomorrow morning.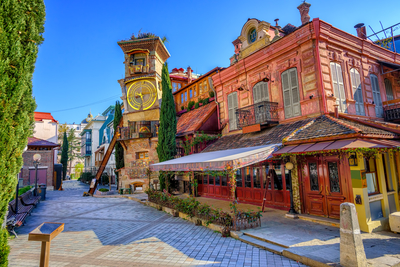 ---
The pre-departure meeting will take place this morning at the hotel, after which we will have a city tour including all of Old Tbilisi. From the Metekhi Church (13th century) overlooking the river Mtkvari to the Narikala Fortress (4th century), one of the oldest fortifications in the city, we'll also pay a visit the synagogue, the Anchiskhati Church (6th century) and Sioni Cathedral (6/7th century). In this cathedral the cross of St. Nino – the woman who brought Christianity to Georgia – is preserved. All these sights are in close proximity and it's a pleasant walk.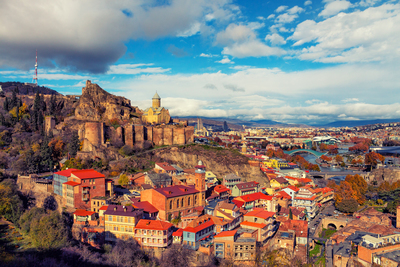 ---
DAY 3: Tbilisi – Truso Gorge – Kazbegi National Park
After breakfast we set off north along the famous Georgian Military Highway, taking in the first views of the stunning Greater Caucasus Mountains. This is a spectacular highway that winds its way through sheer mountains, as although it was named by Tsar Alexander I, this route actually dates from before the 1st century BC and is still important as one of the only links to Russia through the Caucasus Mountains. As we make our way north, we find the untouched beauty of the lesser-visited Truso Gorge where we will enjoy our first walk. Walking through the beautiful nature of Truso Valley, we pass by remote villages and ancient towers hidden within canyons and alpine meadows. Truso Gorge is famous for its rock formations formed by mineral water springs, and many houses have now been abandoned due to the challenges of mountain life, showing the resilience of the remaining residents. Once we reach Abano village, we then drive on to Stepantsminda, located in the heart of Kazbegi National Park.
Walking time: Approx. 4hrs
Walking distance: 12km
Ascent/descent: 400m/400m
Highest altitude: 2370m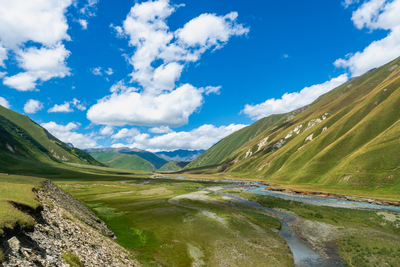 ---
DAY 4: Kazbegi National Park: Juta & Sno Valley
Setting off through the spectacular Sno Valley this morning, we'll travel by road to the remote village of Juta (2165m). En route we can spot the famous Giant Stone Head Sculptures, created by local artist Merab Piranishvili to help immortalise Georgia's great poets. Cut off for six months of the year and surrounded by glorious mountain scenery, Juta provides an unforgettable glimpse into traditions and times long past. It is also the starting point for a pleasant four-hour circular walk to the foot of Mount Chaukhebi. The route in itself is not considered to be particularly challenging but does climb to around 2550 metres and provides some magical vistas along the way. On our return to Juta, we'll be rewarded with some homemade honey as we visit a local family, before returning to Stepantsminda for the evening. 
Walking time: Approx. 4hrs
Walking distance: 9km
Ascent/descent: 680m/680m
Highest altitude: 2580m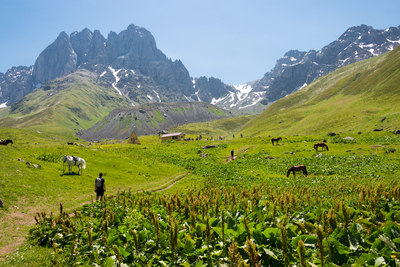 ---
DAY 5: Kazbegi National Park: Gergeti Church & Gveleti Waterfalls
Today we set out on foot for a three-hour walk up through beautiful valleys and woodland to Gergeti Trinity Church (14th century) located at 2170m. Weather permitting we may catch a glimpse of one of the highest glaciers in the Caucasus on Mt Kazbegi (5047m). After lunch in Stepantsminda we then drive through the dramatic Darial Gorge, where we have the opportunity to walk to Gveleti waterfalls (approx 4km, 2hrs).
Walking time: Approx. 5hrs
Walking distance: 11km (total)
Ascent/descent: 735/735m
Highest altitude: 2165m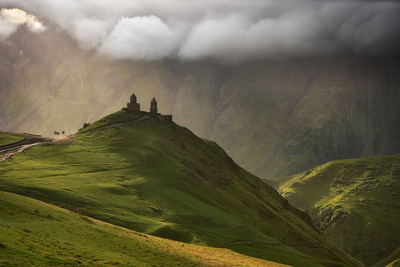 ---
DAY 6: Kazbegi National Park – Ananuri - Mtskheta - Telavi
Today we turn back south along the Georgian Military Highway, stopping at Ananuri to visit two fortified churches beautifully situated on the Jinvali water reservoir. From here we continue on to Mtskheta, the ancient capital of Georgia which contains many of Georgia's most beautiful and oldest churches including Jvari Monastery and Svetitskhoveli. After lunch we then journey via the Gombori Pass into the Kakheti region, well-known for its wine producing and great views of the Caucasus mountains and valleys of Kakheti. Here we visit a local producer and can observe the traditions and culture of the region as well as taste the wines, before ending our day in Telavi with a delicious local dinner.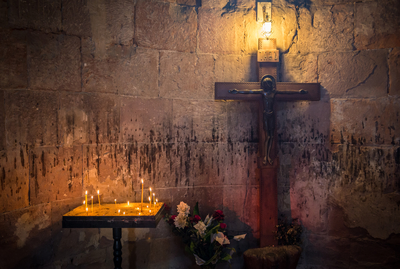 ---
DAY 7: Telavi – Alaverdi – Tusheti National Park
We start the morning with a visit to the local farmers market, where we can observe daily life and buy some supplies for our picnic lunch, before visiting Alaverdi Cathedral (11th century), the highest cathedral in the Caucasus for many centuries. We then head once again deep into the heart of the Greater Caucasus Mountains, this time to the less-visited Tusheti region. Recognised as a protected landscape, the region is managed by the Tushetian people and here we will get the chance to enjoy local hospitality and sample some typical home-made food (including its famous cheese). This provides a rare opportunity to not only contribute directly to the preservation of this unique area, but also to experience village life first hand. The Tushetian people live very much off the grid, with our guesthouses being run off solar panels. Our visit here too will be very much low impact, with much of the time spent walking through this captivating landscape. On arrival in Omalo, we will enjoy a short walk to Keselo, a collection of nearby towers which once served as a fortress, standing high on the surrounding hills.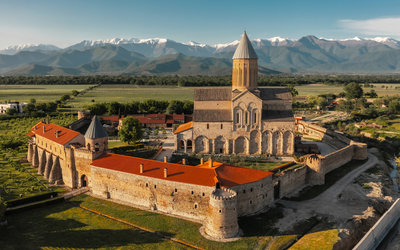 ---
DAY 8: Tusheti National Park: Omalo – Shenako – Diklo
We set off into this stunning landscape today as we follow rivers, cross wooden bridges and pass through forest to reach the small but striking village of Shenako. A traditional mountain village occupying the southern slopes of the Priqiti ridge, Shenako is filled with historical and geographical appeal. Rarely visited by outsiders and scattered with typical Tushetian towers, it is home to the 13th century Russian built Church of the Holy Trinity. Here we'll enjoy a traditional Georgian lunch prepared by our local hosts, before continuing on. We pass through pine wooded valleys, after which the road eventually leads up to Diklo. Infused with legend and folklore, it provides an atmospheric setting for the night and a walk up to the moss-covered ruins of its old fortress provides some stunning views out across the surrounding countryside.
Walking time: Approx. 4.5hrs
Walking distance: 15km
Ascent/descent: 530m/550m
Highest altitude: 2150m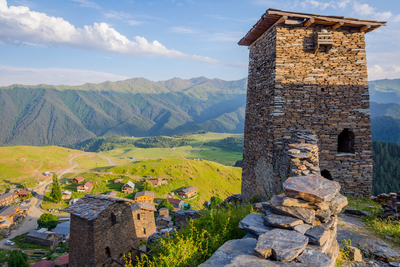 ---
DAY 9: Tusheti National Park: Diklo – Chigo - Dartlo
Today we continue exploring the beautiful Tusheti landscape as we walk along the mountain slopes to the village of Chigo. This will take us most of the day and we can enjoy a picnic lunch en route. After some time to relax and explore Chigo, we drive to Dartlo. Often described as a "village-museum" due to the traditional houses and buildings crafted with stone walls and slate roofs, Dartlo is home to beautiful medieval towers, wooden carved balconies and offers marvellous views of the surrounding area. It is a little bigger than the other villages – which are really just hamlets – and so here we will again stay in a small local guesthouse, meet more locals and enjoy more of their fabled hospitality.
Walking time: Approx. 6.5hrs
Walking distance: 10km
Ascent/descent: 310m/640m
Highest altitude: 2500m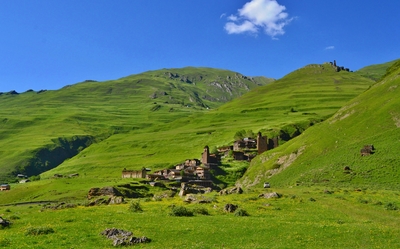 ---
DAY 10: Tusheti National Park: Dartlo – Kvavlo – Dano – Chesho – Parsma - Girevi
Our journey today begins on foot, hiking mostly uphill to Kvavlo, home to a number of towers and interesting sites, before following the trail to the beautiful hamlet of Dano. From here we continue along a pathway that connects us back to the main road, where we once again meet our vehicles and drive on to the picturesque villages of Chesho and Parsma where we can spend some time exploring. Built in the middle ages, the stone tower of Parsma still stands today and was built in a peaceful time by a Kist father-son from Bauli, like many of the towers in the region. Here we enjoy a home-cooked lunch with a local family, before this afternoon walking to the village of Girevi, only inhabited during the summer months. Discover the atmospheric Girevi Fortress, before settling in for the evening with our hosts who will introduce us to the art of making khinkali (a local dumpling), as well as introducing us to some of the local Tushetian beer – Aludi.
Walking time: Approx. 3hrs
Walking distance: 9km
Ascent/descent: 620m/500m
Highest altitude: 2150m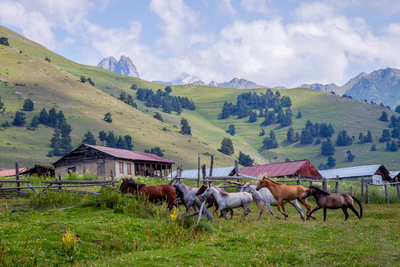 ---
DAY 11: Tusheti National Park: Girevi – Ghele – Dochu – Omalo
Today we drive to the village of Ghele for our final spectacular walk in Tusheti. From Ghele the trail leads us up to the mountain ridge, to provide some unforgettable views of the Tushetian landscape below as we walk along the ridge trail, enjoying a picnic en route. We eventually descend to the mystical village of Dochu, perched on a rocky outcrop, from where we then drive on to Omalo for our final night in the mountains.
Walking time: 5.5hrs
Walking distance: 10km
Ascent/descent: 600m/884m
Highest altitude: 2630m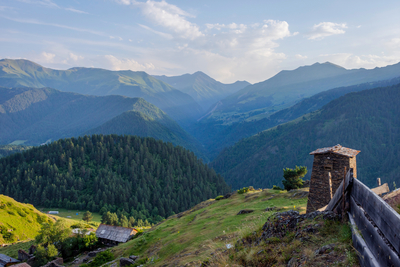 ---
DAY 12: Tusheti National Park: Omalo – Telavi – Tbilisi
We have an early start today as we spend most of today on the road making our way back to Tbilisi, stopping in Telavi en route for some lunch. This evening we can enjoy our well-earned final dinner in the capital in one of our favourite local restaurants.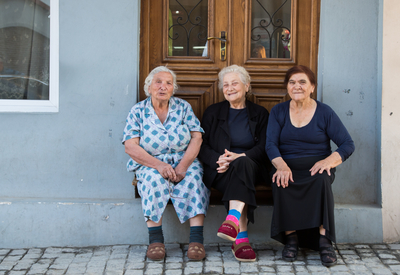 ---
DAY 13: Tour ends in Tbilisi
The tour will end this morning at the hotel.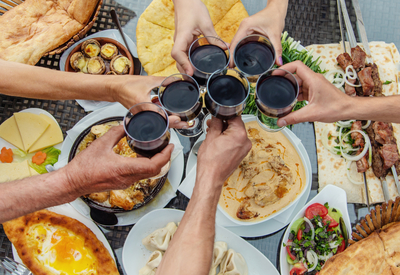 ---