Ethiopia: Northern Explorer
05 Nov
-
14 Nov 2023
|
10 days
This is a great itinerary which gives a real insight into some of Northern Ethiopia's highlights whilst also offering a few additional hidden treasures.
Starting our tour in Addis we will fly north to the ancient capital of Axum, known as the heart of Ethiopian Orthodox Christianity. From here we continue to the stunning Simien Mountains National Park to go hiking amongst the beautiful landscapes and hopefully spot some of the endemic wildlife.
With time in Gonder to see its medieval castles we then fly to Lalibela to explore the impressive rock-hewn churches (which for some are considered to be the 8th wonder of the world). From here we undertake a rewarding village walk, spending 2 nights with local communities in conjunction with a community-based tourism project called TESFA (Tourism in Ethiopia for Sustainable Future Alternatives). Finishing on the shores of Lake Tana, the source of the Blue Nile, here we can enjoy a boat ride on the lake and a visit to the famous Blue Nile Falls.
DAY 1: Tour Starts in Addis Ababa
Meeting at our hotel this morning, there will be time to relax and freshen up before having lunch and an orientation tour around Ethiopia's colourful capital, including Unity Park and the National Museum. In the evening we'll have an early dinner back at our hotel in preparation for the trip ahead.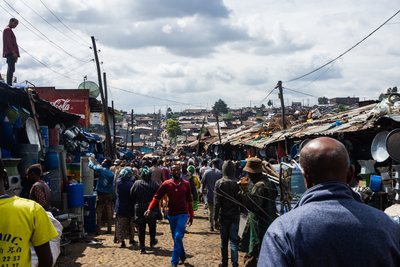 ---
DAY 2: Addis Ababa - Axum
A morning flight takes us to Axum, a town steeped in more than 2,500 years of history. We'll visit some of the key sites such as the palace and tomb of King Kaleb, the extraordinary stelae field (UNESCO World Heritage Site), the tomb of King Remhay, and the church of St Mary of Tsion, in which the Ark of the Covenant is allegedly hiding! Depending on time we will also visit the Queen of Sheba's Palace (if not the following morning).

If by the time of departure Axum is not yet deemed viable or suitably safe, we will instead take a morning flight to Gonder. From here we will drive to Gorgora and have lunch at an idyllic spot on the shore of Lake Tana, an ideal place to relax and try and try to identify some of the abundance of bird species that make this area their home. We'll then visit the Debresina Mariyam church, famous for its 17th century wall paintings depicting religions scenes including the 'Egyptian St Mary' which locals believe to have healing properties. We drive back to Gonder in time for dinner this evening.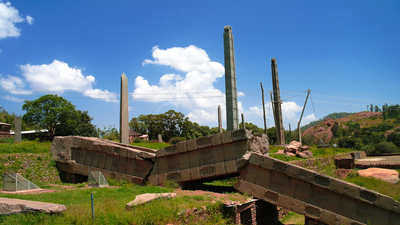 ---
DAY 3: Axum - The Simien Mountains National Park
Our journey continues south west (or North-East if coming from Gonder) to the Simien Mountains National Park, stopping for lunch en route. The scenery along this route is truly breath-taking and there will be time for photo stops along the way. On arrival to the Simiens there should be time for a leisurely walk in the nearby area where with some luck we'll get to see some of the wildlife the park is known for, including lammergeier vultures, Gelada baboons and bushback. Approx. 6-7 hours driving if coming from Axum.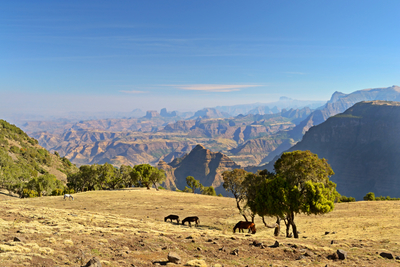 ---
DAY 4: Simien Mountains National Park
Today we'll have a full day to explore the stunning landscapes the National Park is renowned for. Taking a picnic lunch with us we'll walk along the escarpment taking in the exceptional views. Without doubt we'll get to spend some time observing the Gelada baboons and if we're lucky we might get to see the elusive walia ibex.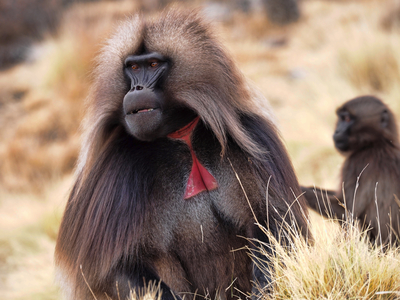 ---
DAY 5: Simien Mountains National Park - Gonder
Leaving the mountains behind our next stop is Gonder, where we'll visit the key sites of the ancient capital including the Debre Birhan Selassie church (Light of Trinity) with its wonderful murals. We'll also visit the Royal Enclosure, a UNESCO World Heritage Site with its medieval castles, architecturally unique and unlike anything else found in Sub-Saharan Africa. Approx. 3 hours driving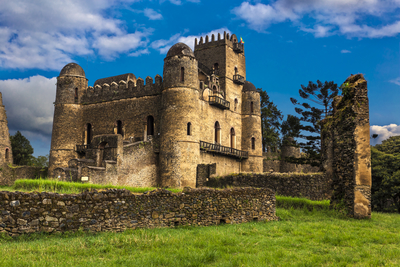 ---
This morning we will catch a flight to Lalibela, arriving late morning. This isolated town, situated high up in the Lasta Mountains, is famous throughout the world for its incredible rock hewn churches. At 2,630m and perched among wild mountains, the setting is fantastic. From the 10th to the mid-13th century it was the capital of the Zagwe Dynasty that ruled the country and it was under the direction of its most famous King, Lalibela, that the churches were carved. He gathered together the greatest craftsmen possible and some estimate as many as 40,000 people were required to create the churches. This incredible group of monuments consists of six churches to the north and five churches to the south, and the churches are linked by a series of rock hewn tunnels similar to catacombs. After settling into our hotel and enjoying an early lunch, this afternoon we'll visit the first cluster of UNESCO World Heritage Site churches, included the famous church of St. George, or Bete Giyorgis, carved in the shape of a cross from the red tuff. This evening we hope to visit the home of a local family for a traditional coffee ceremony. This is a wonderful opportunity to share in a core cultural custom of Ethiopia, which centres around socialising with relatives, neighbours and other visitors.

Should domestic flight schedules at the time of departure do not permit the above, we will instead drive to Lalibela.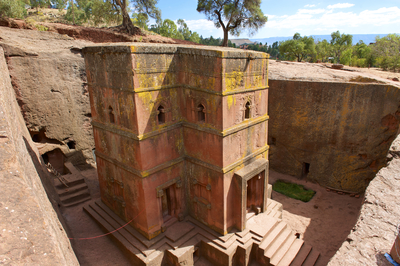 ---
DAY 7: In and around Lalibela
After breakfast we'll drive up into the mountains to visit the wonderful Yemrehana Kristos cave church, situated about 40km from Lalibela. Set at an altitude of 2,700m and protected by an unflattering wall, Yemrehana Kristos is an old built-up church within a large cavern and is a particularly fine example of late Axumite architecture, with a cruciform carved window and an etched wood-panel roof. It's a short hike up to the church but well worth the visit and the scenery en route is spectacular. With lunch back in Lalibela, this afternoon we'll visit the second cluster of staggering rock hewn churches. In the evening we'll take a trip to a tej house to sample the local liquor, followed by dinner at a traditional restaurant.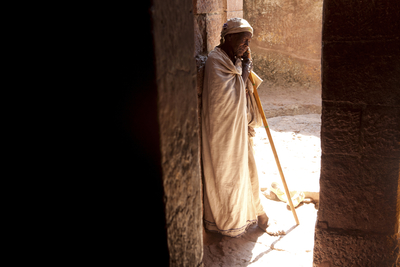 ---
DAYS 8 - 9: Lalibela - Tesfa trek (3000 meters)
TESFA is a community-based enterprise that invites visitors to trek between villages, stay in traditional accommodation and learn about the day-to-day lives of the people of the Ethiopian Highlands, while contributing to the protection of their culture and environment. This is sure to be a real highlight of the trip and is an opportunity not currently offered by any other UK tour operator (as far as we are aware!). Driving to the start point we undertake a fascinating walk visiting local communities and staying in traditional villages. Please note that depending on the overall group size it may be necessary to divide in to two groups – in an attempt to minimise the impact our presence may have in these communities. It will also allow for a more personal and intimate experience for everyone. Both groups will visit the same villages (but in a different order), meeting up at the start, middle and end. Most walking is at around 3,000m and as everyone should be fully acclimatised by now, anyone of reasonable fitness should be fine with it. The walks vary in length from 4-7 hours with the emphasis being very much on seeing the people and countryside rather than rushing through.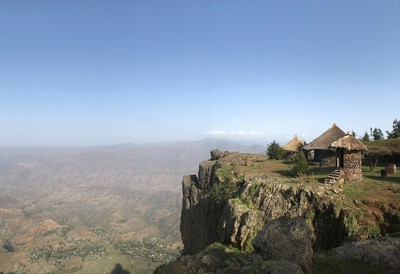 ---
DAY 10: Tesfa trek - Bahir Dar
After a final morning walk to the trail-head we will be picked up and driven west to Bahir Dar on the shores of Lake Tana. Here we'll have the chance to freshen up in our rooms before dinner.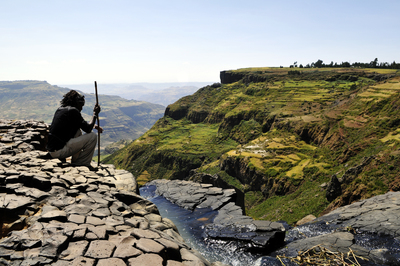 ---
DAY 11: Tour ends in Bahir Dar
This morning we'll drive to Tisissat to visit the Blue Nile falls. Here the waterfall plunges 45 metres down before continuing its journey to join the White Nile in Khartoum. After taking in views of Tis Abay (Smoke of the Nile) from a classic vantage point we'll take a beautiful walk via the base of the falls and a short boat trip across the river back to Tisissat. Heading back towards Bahir Dar we'll board a boat and take a trip out on to Lake Tana, visiting a highly distinctive monastery found there replete with some truly spectacular frescoes. The tour ends late this afternoon, and those on the suggested group flights will be transferred to Bahir Dar airport in time for their return flight to Addis.
Please be aware that the flow of water at the falls is significantly reduced due to a hydro-electric plant. We therefore have no way of knowing the size of the falls in advance. Despite this a visit still makes for an enjoyable excursion from Bahir Dar, whatever the level of water.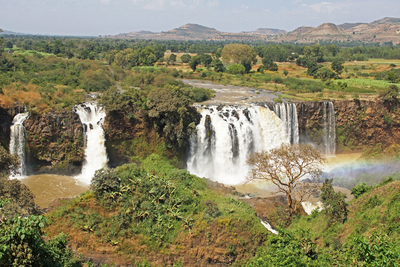 ---