LEMOSHO ROUTE TREK-SAFARI EXPERIENCE
01 Dec
-
11 Dec 2022
|
11 days
Helicopter

Mountain Climb

Animals

Birds

Camping

Food

Hiking

Motor

Off Road

Photo

Safari
TOUR IN AFRICA- NORTHERN TANZANIA
Arrive at Kilimanjaro International Airport at any time today and you'll be greeted and shuttled to our hotel in Arusha, one of the two base towns for Kilimanjaro climbs. Most travelers arrive on a KLM flight from Amsterdam that arrives in the evening, so you'll probably go straight to bed after a long travel day.
---
RELAXING & PRE-KILIMANJARO BRIEFING
Today, will not only be a day of acclimatization and preparing for the trek, but also a day to explore the rich culture and history of Tanzania round Arusha.
---
LEMOSHO GATE/BIG TREE CAMP
We drive three hours to the Lemosho glades Gate entrance of Kilimanjaro National Park This first day we hike through the rain forest for three hours to our campsite, where we learn the camp routine that will stay with us for the remainder of our trip. Elevation Change: 7,742 feet to 9,498 feet. Campsite: Mti Mkubwa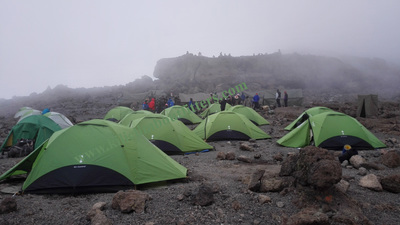 ---
We hike through the remaining rainforest toward the giant moorland zone, an area with grasses and cactus-like plants. Our lunch stop is the beautiful valley just outside the Shira Crater. After lunch, we cross into the Shira Caldera, a high-altitude desert plateau that is rarely visited. Shira is one of Kilimanjaro's three volcanic cones and is filled with lava flows from Kibo Peak.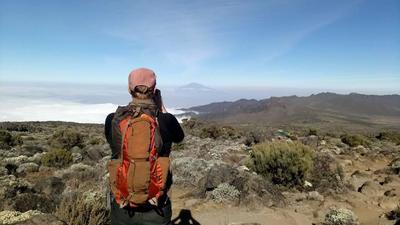 ---
, we continue our hike east across the Shira Plateau past the Shira Cathedral towards Shira II Camp. This camp is large and exposed with beautiful views of the town of Moshi and the Heim Glacier. This is a relatively easy day designed to allow us to adjust to the altitude.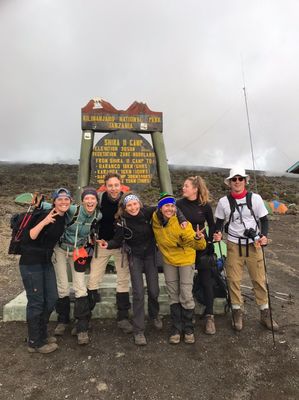 ---
SHIRA II/LAVA TOWER-BARANCO CAMP
The grade is gradual as we make our way up to Lava Tower but we gain quite a bit of altitude, reaching 15,190 feet. We then descend steeply down to Barranco Camp. This policy of "hike high and sleep low" helps us with the higher elevation during acclimatization as our bodies adjust to the day, making it easier at our lower campsite. The camp is in the beautiful Barranco valley with large lobelia and Senecio trees dotting the landscape.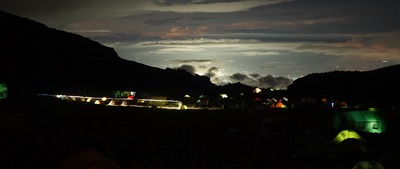 ---
BARRANCO CAMP/KARANGA VALLEY -BARAFU BASE CAMP
We start the morning with a climb up the Great Barranco Wall, with some parts requiring a bit of scrambling over the rocks. Then it is about a two-hour walk down to the Karanga Valley where we have lunch. After a rest, we continue to Barafu Camp. We again hike high and sleep low. While the overall elevation gain is only about 2,000 feet we will actually climb more like 3,700 feet since we climb up the Barranco Wall, hike down into the Karanga Valley, and then back up to Barafu Camp.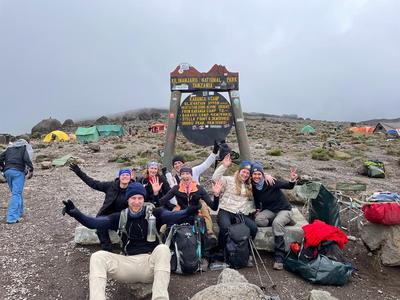 ---
BARAFU BASE CAMP/SUMMIT-BARAFU BASE CAMP
This is the longest day of the trek by far. Today we rise before the sun and after a hearty breakfast, begin climbing with our headlamps. Before too long, we will be walking as the sun rises, with stunning views of the jagged Mawenzi Peak. (Many other groups will have started at midnight to try to see a sunrise at the top but we feel this is not worth the lost sleep, colder weather, and crowds all going at the same time. The clouds often obscure a sunrise anyway!) The path up to Stella Point on the crater rim zigzags back and forth along a gravel path. This portion takes about six to seven hours and is the most grueling aspect of the trip for most climbers. By the time we reach Stella Point we very well may have the mountaintop to ourselves and will continue another hour up to Uhuru Peak, at 19,341 feet our goal for the trip. After a few victorious photos and (with luck) a glorious view, it's time to make our way back down to Barafu Camp via a more direct trail for another early dinner and a blissful night of sleep. Tanzania Climbing Outfitters Safaris specifically adds a second night in Barafu Camp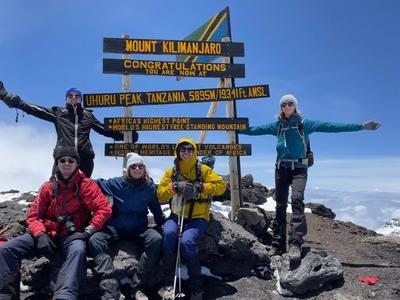 ---
BARAFU BASE CAMP/ MWEKA CAMP
Today is all downhill, but is not an easy day, as we descend over 5,000 feet and our knees will be talking to us. By the time we reach camp in the early afternoon, our lungs will feel like we have an abundance of oxygen!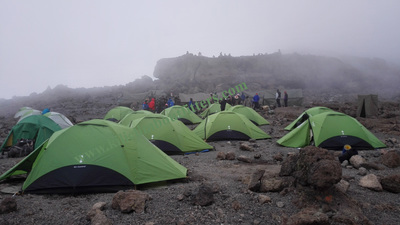 ---
MWEKA CAMP/MWEKA GATE-ARUSHA
Enjoy your last views of the mountain as you once again descend through the moorland and rainforest zones on your way to Mweka Gate. The path can be muddy, especially if it has rained recently – your trekking poles will again be very helpful today. At the gate, you will receive your completion certificate if you made it to Stella Point or Uhuru Peak. If you are a beer drinker, you will find that bottle of Kilimanjaro Beer waiting for you at the bottom is one of the best you've ever tasted!
---
JOIN SAFARI/FLIGHT BACK HOME
This is a free day to rest and explore Arusha. The KLM flight to Amsterdam leaves in the evening and we will provide you with a shuttle to the airport. If you choose to join our post-climb safari (which we highly recommend), we will depart this morning for the bush.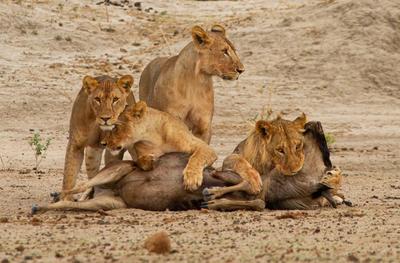 ---